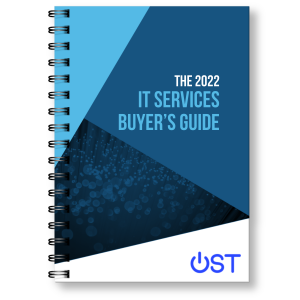 Choosing or sticking with the wrong Providence IT service provider can have a profound impact on your business. How well your technology runs are now synonymous with how well your business operates.
Many companies have a business plan, but they don't have an IT plan. This can leave them suffering from unnecessary costs and an inability to adapt when something like a pandemic hit.
During the pandemic, the way that many companies do business changed dramatically. Remote and hybrid working became the norm and technology began playing a more significant role in business operations than it already did.
Prior to the pandemic, the average number of customer interactions that were digital in the U.S. was 41%. After the pandemic hit that number quickly jumped to 65%.
Having an optimized and effective technology infrastructure is vital to staying competitive and growing in today's world. One of the most important factors to how well your technology is optimized is the managed IT provider that you work with. 
New Downloadable Providence IT Services Buyer's Guide
We know how important choosing an IT support provider is for a business in Rhode Island or anywhere else. An IT service provider can keep you protected from a devastating data breach… or not. An IT provider can help you optimize efficiencies and reduce app redundancy… or not.
Our new Providence IT Services Buyer's Guide is designed to help you make a better choice when it comes to the IT service provider in Providence or other RI cities and towns that you choose. This is a "must read" for companies if they genuinely want to remain competitive and optimize their deployment of technology for security, business growth, and customer support. 
Our guide is easy to read and not filled with IT jargon. Our goal is to help you make a better-informed choice for the most important part of your technology infrastructure, the company that supports it.
Here is a preview of the main chapters of our Guide:
Chapter 1 - Technology changes everything in our businesses
Chapter 2 - You've got a business plan. Do you have an IT strategy?
Chapter 3 - Why business owners & managers switch IT partners
Chapter 4 - Protect the most important thing in your business
Chapter 5 - Why you should be highly skeptical of all IT support companies
Chapter 6 - What every Providence IT support company wishes you knew about IT
Chapter 7 - How to help your internal IT people, if you have them
Chapter 8 - Don't take our word for it: Here's what our clients say
Chapter 9 - About us
Chapter 10 - What will typically happen during your first 90 days
Chapter 11 - What to do next
Below, we'll go through three of the five important questions we share in Chapter 5 of our Buyer's Guide. These are things you should ask an IT provider to ensure you're getting one that will truly support your business growth and security.
Difficult Questions to Ask Your Providence IT Service Provider
How quickly will problems be fixed?
Responsiveness is important from an IT provider. Downtime costs you money each minute that ticks by. Slow response time can also mean that something like a ransomware attack gets worse while you're waiting for a response. Are they local to RI?
When asking this question, you want to listen for someone that has an answer that makes sense. "We'll get there fast," is not an adequate answer. You want something like, "Our maximum response time average is x minutes, and we average x minutes to respond to a service request."
What do you do proactively to make sure my team have fewer interruptions?
Small interruptions like a Wi-Fi going out can cause longer disruptions if you have to wait on a response from an Providence IT provider. You want to find out what automated response systems they may have in place to detect trouble and get your business help fast.
Downtime can cost small businesses over $10,000 per hour. You want to ensure that your IT provider is digitally optimized themselves and using monitoring systems that alert them to trouble with your IT immediately and that can message technicians who may be on the road that you just called in for emergency help. 
Tell me about the specific people who'll be looking after us.
There is a good chance that the person you've been talking to while going through a sales process will not be the one servicing your technology, depending upon the size of the company.
It's important to know if you will get assigned a specific technician or team, what their experience is, and anything else that provides insight into the person or people that will be responsible for keeping your IT up and running.
Download the Providence IT Services Buyer's Guide Now
The team at OST prides itself on providing exceptional IT support and helping Providence area companies use technology wisely. Improve your IT in 2022 by downloading our IT Services Buyer's Guide.   
Want a one-on-one?  Call 401-773-7766 to schedule a consultation or book a video call now.